News
Notre Dame High School unveils Mike D'Aloisio Mural
SOUTHPORT, N.Y. (WENY) -- Many honored the late Mike D'Aloisio at Notre Dame High School Sunday afternoon, unveiling a mural dedicated to his life. The mural was a gift from the Class of 2022 to Notre Dame High School that honors the legacy he left in the community.  
"I figured it would be nice for the future alumni of Notre Dame to recognize Coach D and that he's still around." Griffin English, a 2022 graduate from Notre Dame High School, said.  
Each year, the Notre Dame graduating class donates a gift back to the school. In 2022, graduates worked with an alumna from the Class of '97 to get a mural painted. The artwork is displayed on the side of the high school building that overlooks Brewer Memorial Stadium.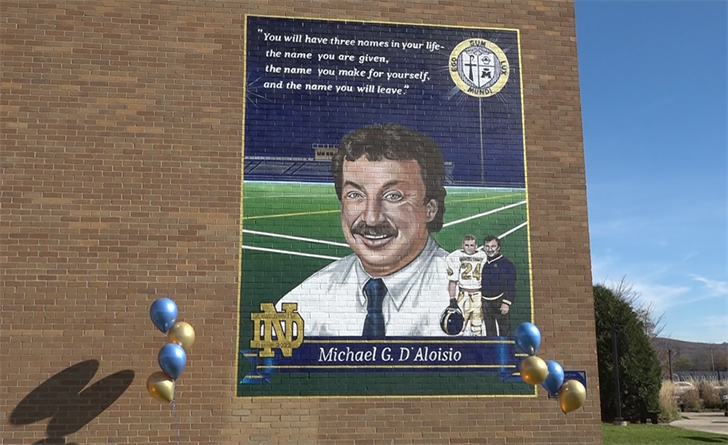 "They made arrangements with one alumni, who happens to be an artist, and asked her if she could do a mockup of a mural," Patricia Mack, Principal of Notre Dame High School, said, adding, "They saw it and knew right away that was what they wanted to give back to Notre Dame."  
Dozens of alumni who were impacted by Coach D came out to bless the new mural at its unveiling Sunday afternoon. Mike's wife, Jane, was taken aback by the community support and how many people her husband has touched over the years.  
"He was all about kids," Jane said, "I can't believe the Class of 2022 did this for him. I'm so touched."   
Michael D'Aloisio coached football for 38 seasons at Notre Dame High School, leading them to 5 Section IV Championships and 19 Division titles. On Sunday, May 22nd, the local icon passed away from ALS at the age of 71.   
Notre Dame will continue to give back to Coach D in the spring with the Groundbreaking of Coach's Corner, an extension of the Joel Stevens Memorial Park.